From Start to Finish
D'Angelo Engineering & Development, LLC is currently engaged as an owner's engineering and development consultant, working with professional, technical and legal teams to plan, permit, design and construct the following projects.
---
1265 Main – Unlocking the Potential

Unlocking the potential of the former Polaroid site in Waltham, MA involved the granting of a Phase I waiver through the MEPA process. The phase I waiver was granted to allow for 280,000 square feet of redevelopment.The phase 1 waiver also allowed us time to design master plan infrastructure improvements which would not only serve the remaining 1,000,000 square feet of planned mixed-use development and provide improvements for this central section of Route I-95 to better serve existing demand and provide for other development potential in the corridor.  1265 Main features new shopping, consumer driven services, restaurants & entertainment for the area including Waltham, Weston, Wellesley, Lincoln and beyond.
---
Woodmont Commons – Bushels of Progress
Planning and approval for a "Planned Unit Development" to convert 600+ acres of apple orchard to 1M sf of mixed-use development – to create living, working, recreational and governmental support services consistent with a vision prepared in partnership with the town of Londonderry, NH.  The key to success was leading a team of transportation, site, civil & planning professionals to obtain approvals over a one year period.  This site is currently under construction.. Team members include TEC, Shook-Kelley, DZP, TF Moran and Callahan-Gatrell.
---
Lynnway Waterfront – Responsible Redevelopment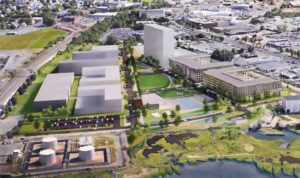 Site of the former Gearworks portion of the General Electric plant, this 60 acre parcel was constructed in the 1940's as a 460,000 sf plant in multiple buildings to produce high-quality, quiet-running engines for submarines and warships. In 2014, GE demolished the buildings and transferred ownership of the parcel to Lynnway Associates who has envisioned a 1,250 unit housing development on the site as part of Lynn's waterfront redevelopment plan prepared by Saski Associates. The key to this redevelopment is the reuse of the current, secure "GE Employee Only" Riverworks transit stop into a "public" stop. The project will require MEPA review and additional acquisition for access and utility corridors. Project team members include GZA, TEC, VHB, Hancock Associates and Elkus Manfredi.
---
Federal Street – Future Forward
Reuse of the former General Electric "factory of the future" as a supermarket-anchored 180,000 sf retail development involved the redefinition of street access plan and imaginative site development to respect the Activity and Use Limitation (AUL). Team members include Retail Management & Development, J & Company, Hancock Engineering and VHB.